The world has a new VR device: the Oculus Go. But do we need it? Read on to find out more.
Feeling lazy? Skip right to the conclusion…
Some Background
It's been a while since we've had time to update this blog. We've been knee-deep in a bunch of projects, some of which we will be able to talk about here soon.
For the most part, not much new has happened.
Okay, that's not true. Some folks have been publicly abandoning VR. Critics are claiming VR is dying (again), while others simply cannot make up their minds. Boooooooring!
Two rather more interesting things have happened though: Microsoft launched Windows Mixed Reality headsets, and rumors started swirling about a new headset from Oculus. It's the second item we're going to talk about today. That new headset is the Oculus Go.
Introducing the Oculus Go
The Oculus Go promises to be an all-in-one VR headset for less than $200 USD. No PC needed. No cables. And a great price. Or, to quote Oculus themselves:
"Easily enter virtual reality with no PC or wires attached. Oculus Go is a standalone VR headset made to fit you. Designed with breathable fabrics, adjustable straps and our best lenses yet."
Perhaps the easiest way to think of it is as a Samsung GearVR or Google Daydream that doesn't need a smartphone. Furthermore, when you consider that both of those devices cost $100 or more, $200 starts to seem like a pretty amazing deal.
Let's dig in…
Unboxing the Oculus Go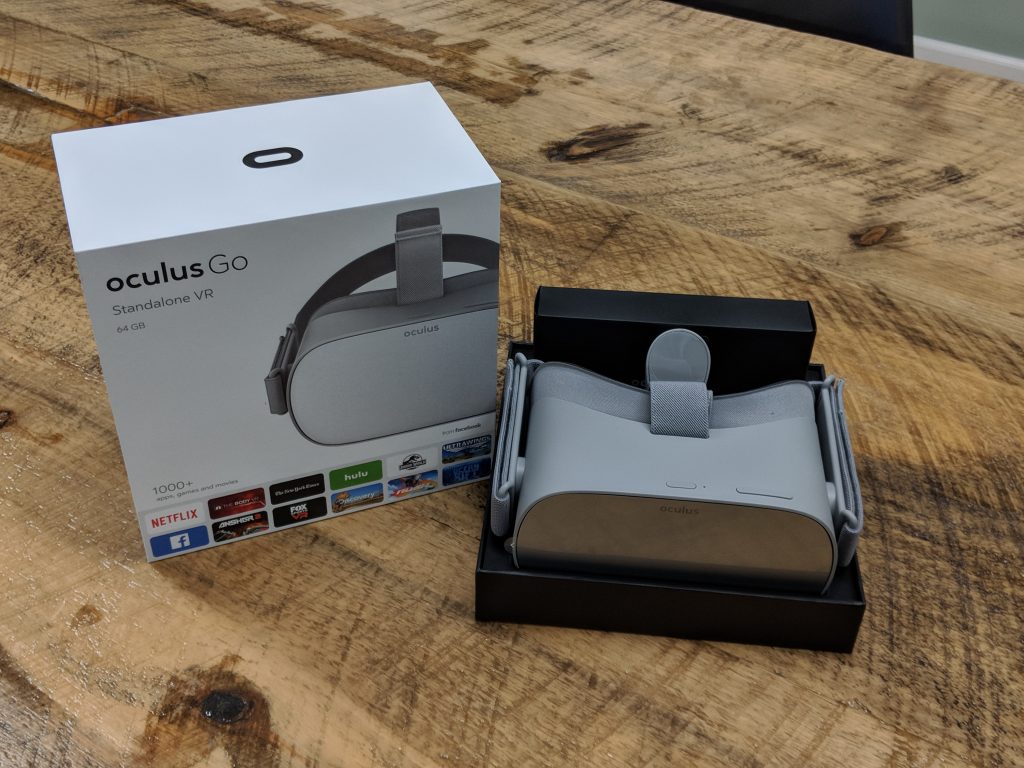 The packaging is fairly easy to open and the design is clean and tidy.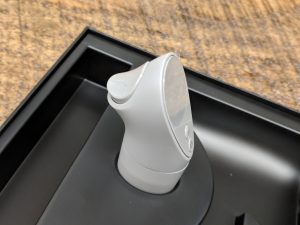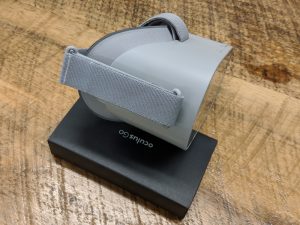 The Go includes a motion controller that has a combination of buttons, touchpad and a trigger.
Getting started is easy enough: you just need to install a setup app from Oculus on your smartphone. The app will walk you through the entire setup process. The Go also includes a cable and charger, glasses adapter, lens cleaning cloth and requisite booklet. Including the charger may not seem like a big deal, but with a $200 device, it's noteworthy. One less thing to have to find when you need to use the device.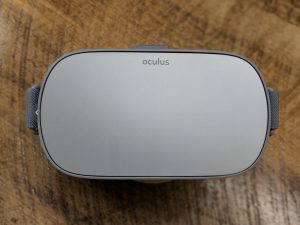 The headset is quite sleek and minimalist. The inside of the headset has a flexible neoprene-like gasket which feels fairly comfortable. I wonder how well it will stand up to multiple users and cleaning, but it is fairly comfortable.
The whole headset also feels remarkably light weight.
Setup
You get started by downloading the Oculus app. The app guides you through the setup process, and it couldn't be simpler. Oculus even includes a left or right handed setup option — they didn't forget the lefties among you!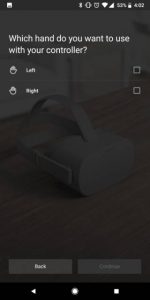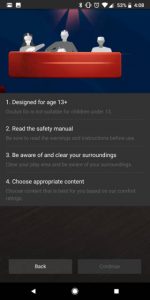 One minor gripe: The health and safety video can't be skipped. I understand why, but it's a little long.
And boom. A quick, automated firmware update and a reboot, and we're done.
Once you've completed the setup process, you no longer need your smartphone.
The Oculus Go Experience
The Oculus Go has side straps and a strap that goes over your head. It was pretty easy to adjust. Overall, it felt comfortable to wear.
The controller is a Bluetooth device that is automatically paired with the headset during setup. It works reasonably well, with some caveats (more on that below).
Once you start trying apps, there are a couple of things you'll notice right away.
The display resolution is really pretty good.
The audio system is awesome.
The screen resolution is actually higher than the HTC Vive (not the Vive Pro). However, before you get too excited, remember that the headset is powered by a mobile processor. The Qualcomm Snapdragon chip Oculus chose is no slouch, but this headset simply doesn't have the processing power of a desktop VR system.
But what about that audio system? There are no built in headphones. Instead, Oculus seem to have learned from Microsoft's Hololens. There are small speakers embedded in the sides of the headset that point directly at your ears. The result, just like the Hololens, is very clear audio, fewer cables and less stuff-on-your-head. As an added bonus, you can hear the real world around you, making it a little easier to stay connected to the real world.
The Pros
There is a lot to like about the Oculus Go.
Nice design.
No cables.
Light weight.
Not nearly as face-sucking, head-wrapping, sweat inducing as most VR headsets.
Nice approach to audio.
No PC required.
Comes with everything you need included, except for apps.
It's only $200*
* okay, so $200 gets you the 32GB version. I paid more for the 64GB version because VR apps tend to be large and you don't want to run out of space.
From a developer perspective, the Go is an Android device. That makes development fairly straightforward. Furthermore, it seems than any GearVR app can easily be modified to run on the Go.
The Cons
So what's not to like?
Not too excited about the use of materials that seem hard to clean.
Much of the content doesn't take advantage of the higher screen resolution.
Also not too excited about the strong ties to the Facebook empire.
No ability to expand the storage.
And there is one elephant in the room: the tracking. The Go only tracks rotation, not position. You can read more about the ins and outs of tracking here. In a nutshell, you want to use this device standing still or sitting down.
The challenges of rotation-only tracking are numerous. You're more likely to feel nausea unless developers craft experiences very carefully. You'll also find the controller drifts off and has to be reset. Oculus include a button that makes this easy, but if you're familiar with the HTC Vive, Oculus Rift or Windows Mixed Reality controllers, you'll find it annoying.
It's also unclear just how much processing power the headset really has. Since the processor doesn't have to do all those pesky things your smartphone does, Oculus should have been able to get more performance out of the system than a comparable smartphone. However, what that really means will only become clear as developers get the hang of developing apps for the system.
In addition, some early reviewers complained that the battery life was only a couple of hours. This really doesn't seem like an issue — two hours is a long time in VR!
In Conclusion
At $200, the Oculus go sets a new standard for affordable VR. It's also by far the easiest system to setup and use. The design is slick and well thought out… and everything you need is included.
Ease of use really is where the Oculus Go shines. Almost every other VR system on the market takes time, effort and some fiddling before you can just get on with enjoying your experience. Consequently, this gives the Oculus Go a huge advantage for casual users.
It's unfortunate that the storage can't be expanded because VR apps can get pretty large. Also, the rotation-only tracking is a big limitation. But again, it's only $200. That's incredibly affordable.
In conclusion: if your primary use case is casual VR, especially 360° video apps, the Oculus Go a great choice.